Microsoft Price List Online - Microsoft Software Malaysia Reseller, Windows 8.1, Office 2013, SQL Server, Windows Server, Exchange Server


Microsoft Licenses 101
Microsoft offer companies of all sizes a great way to buy and manage multiple software licenses. To find out what software licensing can do for your organization, click here.

What is Open License
Compare Open License with other Microsoft Volume Licensing programs to find the one that's right for your organization.

What is Volume License
Download the Microsoft Volume Licensing Reference Guide
What is Academic Select License
Microsoft Academic Select License
Microsoft Office
Microsoft Office Online Home Page
Learn more about Office license transferability.
Don't have Microsoft Office? Download the Microsoft Office Converters and Viewers here
Microsoft Windows
Microsoft Windows Family Home Page
Compare Microsoft Windows 8.1 editions
Windows 8.1 system requirements
Validate your Windows's license with Microsoft HowToTell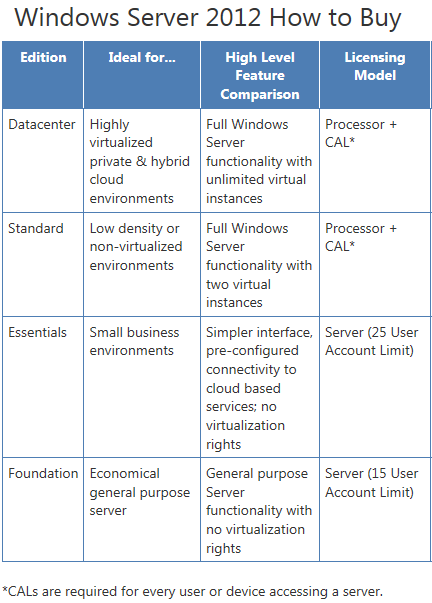 ---
Microsoft SQL Server 2012
Microsoft SQL Server 2012 Licensing Overview
SQL Server 2012 Licensing Reference Guide
Microsoft SQL Server 2012 Licensing Datasheet and FAQ
Determining SQL Server 2012 Core License Requirements at SA Renewal
Microsoft SQL Server 2012 Core Factor Table
---
What is OLP NL in server licenses?
OLP = Open License Program
Microsoft Open License is a Volume Licensing program for small to midsize organizations that have fewer than 250 desktop PCs. The program provides a simple, flexible, and cost-effective way to buy the latest Microsoft technology to meet your organization's needs and procurement procedures.

Software licensing is delivered thru e-mail. It is a simple and cost effective way to acquire the latest Microsoft technology within 24-48 business hours. After receiving your license, you can login to Volume Licensing Services Centre (VLSC) to activate the license(s), obtain license key(s), and download the software program(s).

Microsoft OLP Home Page
NL = No Level
Some Microsoft Volume License programs have "Levels", which are basically bulk discounts. Some other companies call these "price bands". Depending on the number of licenses purchased at once, discounts get applied. If you don't purchase enough for a discount, this is called No Level or NL.
For example:
Microsoft Exchange Server 2010 Standard CAL has two discount Levels:
No Level - for 1 to 49 users
Level C - for 50+ users
About Licensing
Client Access Licenses and Management Licenses - User CAL or Device CAL?
Client Access Licenses 101
Microsoft Server Client Access License
Understanding downgrade rights
Understanding downgrade rights
Downgrade rights for Microsoft Volume Licensing, OEM, and full-package product licenses
---
Compare suites available through Volume Licensing
See what suite is right for you
Microsoft Windows Server 2012 R2
Microsoft Windows Server 2012 R2 datasheet
Microsoft Windows Server 2012 Licensing Pricing FAQ
Microsoft Exchange Server 2012
Looking for more support and information?
Microsoft Malaysia Toll Free: 1800-886-295
---
| | |
| --- | --- |
| 101 Item(s) | Show per page |
| | |
| --- | --- |
| View as: Grid List | Sort by |
Regular Price: RM 501.00

Special Price: RM 498.00

Regular Price: RM 710.00

Special Price: RM 652.00

Regular Price: RM 17,590.00

Special Price: RM 16,998.00
Regular Price: RM 501.00

Special Price: RM 498.00
Regular Price: RM 13,021.00

Special Price: RM 12,280.00

Regular Price: RM 5,100.00

Special Price: RM 3,888.00
Regular Price: RM 47,703.00

Special Price: RM 42,888.00
Regular Price: RM 5,909.00

Special Price: RM 4,688.00

Regular Price: RM 20,800.00

Special Price: RM 18,988.00

Regular Price: RM 896.00

Special Price: RM 748.00
Regular Price: RM 560.00

Special Price: RM 498.00

Regular Price: RM 928.00

Special Price: RM 628.00
Regular Price: RM 365.00

Special Price: RM 293.00

Regular Price: RM 1,119.00

Special Price: RM 1,108.00
Regular Price: RM 1,658.00

Special Price: RM 1,228.00

Regular Price: RM 1,711.00

Special Price: RM 1,560.00
Regular Price: RM 1,244.00

Special Price: RM 1,198.00

Regular Price: RM 1,256.00

Special Price: RM 1,148.00
Regular Price: RM 910.00

Special Price: RM 898.00
Regular Price: RM 464.00

Special Price: RM 458.00

Regular Price: RM 501.00

Special Price: RM 498.00

Regular Price: RM 3,898.00

Special Price: RM 3,178.00
Regular Price: RM 3,162.00

Special Price: RM 2,988.00
Regular Price: RM 2,112.00

Special Price: RM 1,928.00

Regular Price: RM 1,899.00

Special Price: RM 1,788.00

Regular Price: RM 501.00

Special Price: RM 498.00
Regular Price: RM 22,891.00

Special Price: RM 21,588.00
Regular Price: RM 62,695.00

Special Price: RM 44,888.00

Regular Price: RM 29,809.00

Special Price: RM 26,888.00
Regular Price: RM 47,697.00

Special Price: RM 42,228.00

Regular Price: RM 3,116.00

Special Price: RM 2,998.00
Regular Price: RM 689.00

Special Price: RM 648.00

Regular Price: RM 689.00

Special Price: RM 648.00

Regular Price: RM 12,441.00

Special Price: RM 11,588.00
Regular Price: RM 13,550.00

Special Price: RM 9,740.00

Regular Price: RM 2,112.00

Special Price: RM 1,938.00
Regular Price: RM 1,655.00

Special Price: RM 1,598.00


Regular Price: RM 88.00

Special Price: RM 58.00
Regular Price: RM 501.00

Special Price: RM 498.00
Regular Price: RM 21,900.00

Special Price: RM 21,000.00

Regular Price: RM 21,900.00

Special Price: RM 21,000.00

Regular Price: RM 1,988.00

Special Price: RM 1,786.00
Regular Price: RM 3,976.00

Special Price: RM 3,839.00

Regular Price: RM 1,988.00

Special Price: RM 1,786.00
Regular Price: RM 47,596.00

Special Price: RM 43,888.00

Regular Price: RM 47,596.00

Special Price: RM 43,888.00
Regular Price: RM 488.00

Special Price: RM 425.00

Regular Price: RM 488.00

Special Price: RM 425.00
Regular Price: RM 598.00

Special Price: RM 535.00

Regular Price: RM 598.00

Special Price: RM 535.00

Regular Price: RM 385.00

Special Price: RM 200.00
Regular Price: RM 385.00

Special Price: RM 335.00

Regular Price: RM 605.00

Special Price: RM 450.00

Regular Price: RM 1,034.00

Special Price: RM 759.00
Regular Price: RM 16,688.00

Special Price: RM 15,735.00

Regular Price: RM 2,181.00

Special Price: RM 1,858.00

Regular Price: RM 1,738.00

Special Price: RM 1,688.00
Regular Price: RM 5,880.00

Special Price: RM 4,788.00

Regular Price: RM 5,104.00

Special Price: RM 4,188.00

Regular Price: RM 2,638.00

Special Price: RM 2,488.00
Regular Price: RM 3,063.00

Special Price: RM 2,880.00

Regular Price: RM 2,157.00

Special Price: RM 2,058.00
| | |
| --- | --- |
| 101 Item(s) | Show per page |
| | |
| --- | --- |
| View as: Grid List | Sort by |