Glovius CAD viewer supports CATIA, NX, STEP, IGES, Pro/ENGINEER and Creo, SolidWorks, Inventor, and Solid Edge files. Take accurate measurements, cut dynamic sections, compare differences between models and export to STEP, IGES, 3D PDF, HTML, 3MF, and STL among other formats.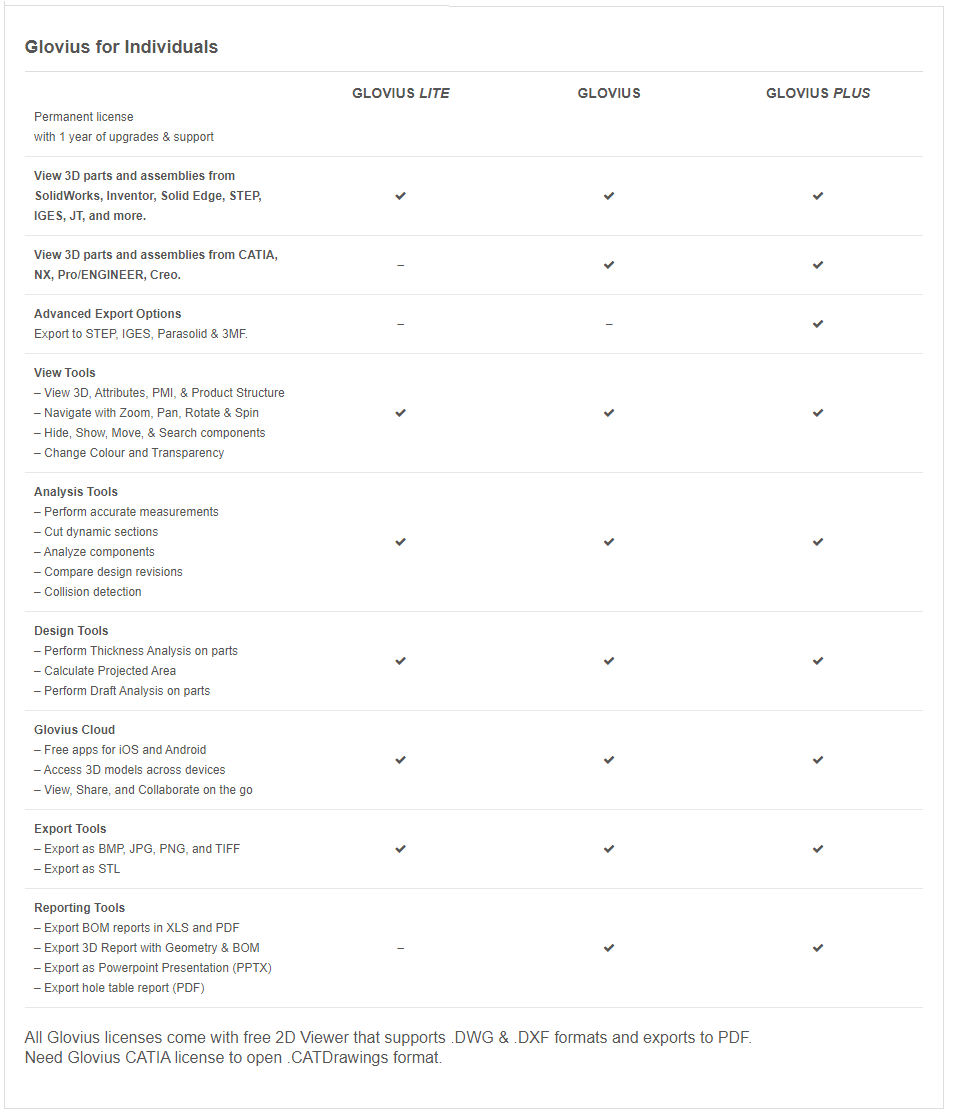 Glovius License Questions
What licensing models are supported by Glovius?
Glovius is available in Node-locked, Floating and subscription licenses.
What is the difference between a node-locked & a floating license?
A node-locked license is a single computer license. A floating license is a network license.
What is a node-locked license?
Glovius node-locked licenses are permanent licenses for use on one computer. The license never expires and is tied to one computer. The license is generated using machine's MACID (host id).
What is a floating license?
Glovius floating licenses are network licenses meant to be installed on a server that allows you to use the licenses on multiple computers. You need to install Glovius on each computer you wish to use. The license is checked out from the server when you launch Glovius. After closing Glovius, the license is returned to the server, available for other users. Floating licenses allow multiple users to utilize the licenses, but one floating license can be used by only one person at a time. For multiple people to use Glovius simultaneously, multiple floating licenses are required. These are referred to as "seats"- if only one floating license is purchased, only one seat is available to be checked out at a time.
All licenses include 1 year of free upgrades and support. All Glovius licenses come with free 2D Viewer that supports DWG and DXF formats and exports to PDF. Glovius CATIA license is required to open CATDrawings format in Glovius 2D Viewer.
Kindly contact us for more information.
* ESD: Electronic Software Download.
All the products are digital in nature and are downloaded/shipped online. There will be no physical CD/manual.
Regular Price:

MYR2,288.00

Regular Price:

MYR8,988.00

Regular Price:

MYR4,588.00
Regular Price:

MYR3,288.00

Regular Price:

MYR5,998.00