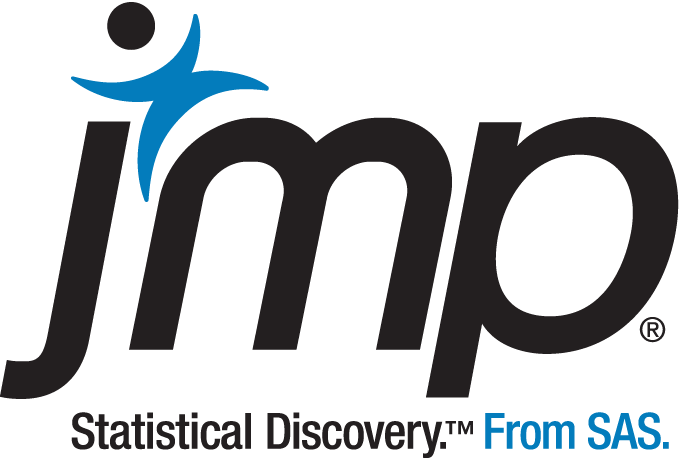 JMP is a suite of computer programs for statistical analysis developed by the JMP business unit of SAS Institute. It was launched in 1989 to take advantage of the graphical user interface introduced by the Macintosh operating systems.

Designed for dynamic data visualization and analytics on the desktop, JMP enables data access and processing; statistical analysis; design of experiments; multivariate analysis; quality and reliability analysis; scripting; graphing and charting. It helps you see and explore data, spot relationships and trends, and dig into areas of interest.

JMP® Live helps you share JMP analyses in an online space designed for interactive collaboration in your organization.

JMP® Pro is the advanced analytics version of JMP, providing all the tools for visual data access and manipulation, interactivity, comprehensive analyses, and extensibility found in JMP.

JMP® Clinical shortens the drug development process by streamlining safety reviews during clinical trials. It links advanced statistics and graphics, creates reports from CDISC data, and helps reviewers migrate into the modern review environment.

JMP® Genomics is a statistical discovery software package for researchers that enables statistical geneticists, biologists, bioinformatics experts, and statisticians to uncover meaningful patterns in high-throughput genetics, expression microarray, and proteomics data.
Documentation
Download all the One-Page PDF Guides combined into one bundle.
JMP Support
JMP Documentation
JMP 16
New Features in JMP 16
Discovering JMP 16
Youtube
Get to know JMP in 60 seconds
The Power of JMP Pro
Kindly contact us for more information.
* ESD: Electronic Software Download.
All the products are digital in nature and are downloaded/shipped online. There will be no physical CD/manual.