Details
Tough. Ready. Scalable.
For everything NAS, there's IronWolf and IronWolf Pro. Always on and always working, IronWolf is enhanced with AgileArray technology for optimal reliability and system agility. Multi-user technology and extreme workload rates allow IronWolf to perform and scale up with your enterprise.
IronWolf + the Power of AgileArray
NAS-optimised hard drive for the best-possible user experience
IronWolf Health Management in compatible NAS1 systems continuously helps to safeguard the health of your data
Drive balance with Rotational Vibration (RV) sensors manage multi-bay vibration for long-term consistent performance and reliability
RAID performance optimised that maximises responsiveness and uptime with NAS-aware Error Recovery Control
Advanced power management saves energy and delivers the right power at the right time
1. IronWolf Health Management is only available in capacities of 4 TB and up.
Actively Protect Your Data With IronWolf Health Management in Popular and Enabled NAS1,2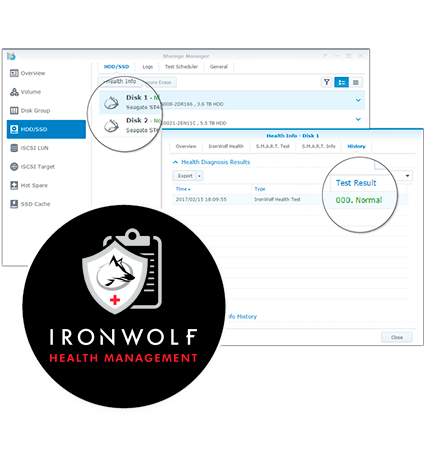 IronWolf Health Management is designed to operate on compatible NAS systems2 such as Synology and ASUSTOR. Populated with supported IronWolf or IronWolf Pro HDDs1 It improves the overall system reliability by displaying actionable prevention, intervention or recovery options for the user.
Learn more about IronWolf Health Management
1. IronWolf Health Management features subject to change.
2. NAS vendors may vary in compatibility with IronWolf Health Management. Contact your Seagate sales representative for further details.