Details
OsiriX MD is FDA / CE certified & 64-bit.
This site license can be installed on up to 10 different computers.
Registered users will be entitled to one year of free updates.
Discover OsiriX MD the world famous medical images viewer
With ultrafast performance and an intuitive interactive user interface, OsiriX MD is the most widely used medical images viewer in the world.
OsiriX MD is certified for clinical use in medicine and offers advanced post-processing techniques in 2D and 3D, exclusive innovative technique for 3D & 4D navigation, including PET-CT and SPECT-CT support, and a complete integration with any PACS.
It fully supports the DICOM standard for an easy integration in your workflow environment and an open platform for development of processing tools.
OsiriX MD is at the same time a complete medical imaging workstation for a radiology department, and an ideal companion for a general practitioner or a surgeon to review the scanners and MRIs of his patients.
OsiriX MD is a stand-alone software, easy to install, and doesn't require any specific environment to work.
Install it in less than 5 minutes, and you have a fully working medical imaging workstation, ready to import images from a PACS or directly from a CD or USB stick.
Optimized for macOS Mojave 10.14
Dark mode
Improved Viewers
Improved Web Portal
Optimized Database
Improved Export functions
Better performances on NAS
OsiriX 10.0 is fully optimized for macOS Mojave 10.14.
OsiriX 10.0 supports OS X 10.10, 10.11, macOS 10.12, macOS 10.13 and macOS 10.14 (recommended).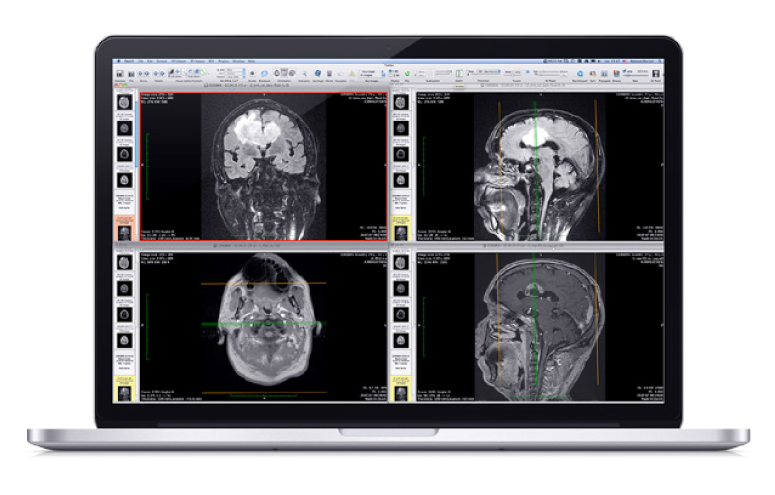 2D Viewer
OsiriX MD includes an intuitive interface to display the images. It supports high quality interpolation for best rendering, with Retina screens support.
You can easily add Key Images and Region Of Interests (ROIs) on the images, including lines, polygons, 3D ball, and save them in the database.
You can apply convolutions filter on images, such as bone or lung filters.
OsiriX MD supports 4D images, such as cardiac or perfusion acquisitions and parametric images, such as PET-CT images.
You can define 'Hanging Protocols' with multiple screens support.
3D Post-Processing
OsiriX MD offers all the modern post-processing techniques, such as MPR (Multiplanar Reconstruction), 3D Rendering (MIP, Volume Rendering and Surface Rendering).
OsiriX MD supports curved planar reconstruction (3D-MPR) to follow organs such as aorta or bronchi.
You can export 3D reconstructions images as movies, and archive them on your PACS.