Adobe

Adobe Malaysia Reseller, Buy Adobe CS6 Malaysia - Photoshop, Pagemaker, Illustrator, Premier, Acrobat, InDesign, After Effect, Video Collection, Creative Suite.
Adobe Toll Free Support:
Should you have any inquiry or need any support for Adobe products, you can kindly contact Adobe Malaysia Support at toll free
1 300 80 0027
.
Customer Service via E-mail:
Alternatively, you can contact Adobe Customer Service via
support form here
.
**(please include the product serial number, if available)
About Adobe Volume Licensing
Adobe Volume Licensing Comparison Guide
.
Adobe buying program
or
Download the TLP program overview
.
End-user license agreements FAQ
To Activate Adobe via Phone:
Malaysia toll free:
1800 80 8025
To Activate Adobe using offline method
Offline Activation
System requirements for Adobe Creative Suite 6
Upgrade eligibility, pricing, and purchasing options
Student and Teacher versions, am I eligible?
To qualify for a student discount, you must be at least 13 years of age and enrolled in one of the following:

• University or college — accredited public or private university or college (including community, junior, or vocational college) that grants degrees requiring not less than the equivalent of two years of full-time study*
• Primary or secondary school — accredited public or private primary or secondary school providing full-time instruction*

What is proof of eligibility?
Use a school-issued email address: If you provide a school-issued email address during purchase you are instantly verified. (A school email address may include .edu, .k12, or other email domains sponsored by educational institutions.) If you do not have a school-issued email address or your email address cannot be verified, additional proof of eligibility may be requested after purchase.
Students and educators at accredited schools
Proof of eligibility must be a document issued by the institution with your name, institution name, and current date. Types of proof of enrollment include:
• School ID card
• Report card
• Transcript
• Tuition bill or statement
Homeschooled students
Proof of eligibility may include:
• Dated copy of a letter of intent to homeschool
• Current membership ID to a homeschool association (for example, the Home School Legal Defense Association)
• Dated proof of purchase of curriculum for the current academic school year

How many computers can I install my Creative Cloud apps on?
You may install software on up to two computers. These two computers can be Windows, Mac OS, or one each.
If you install on a third computer, it will request you to de-activate on the other two computers. You can then reactivate one of the previous two computers, and use Creative Cloud apps on it.
If you regularly need to use the Creative Cloud on more than two computers then it would be best to purchase an additional subscription. This is the same licensing btw which we have for our prepetual product. An advantage though for Creative Cloud over the prepetural product is that you can install on Mac and Windows with the same subscription!
---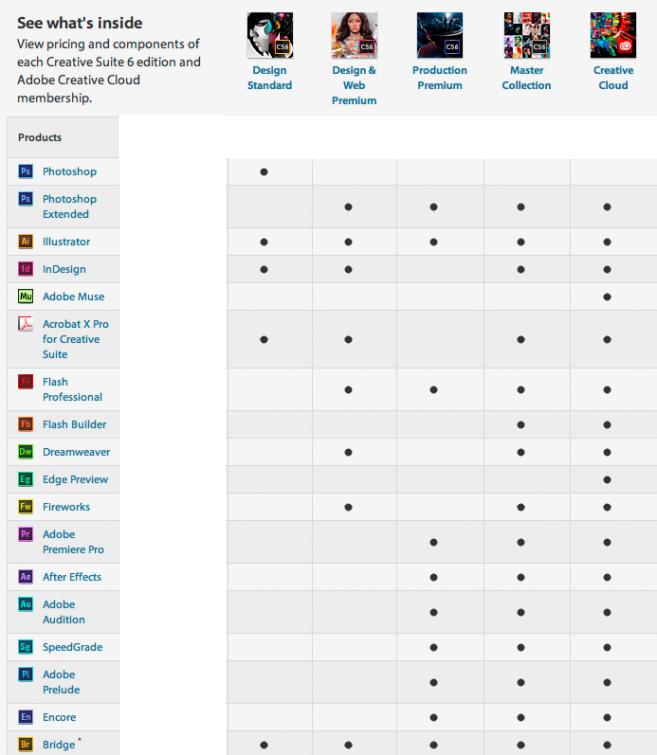 ---
Brochures
Adobe CS6 Design Standard
Adobe CS6 Design and Web Premium
Adobe CS6 Production Premium
Adobe CS6 Master Collection
---
Reference
Acrobat Help / Editing PDFs
Adobe Creative Suite Printing Guide
Adobe Creative Suite 6 Help
Adobe Creative Suite 6 FAQ
Help and tutorials
Adobe Illustrator CS6
Adobe Photoshop CS6
Adobe Indesign CS6
Adobe After Effect CS6
Adobe Dreamweaver CS6
Adobe Flash CS6
Adobe Acrobat DC
Adobe Photoshop Lightroom CC
Adobe Coldfusion Installation Help
Adobe Coldfusion General Administrator Settings
Download
If you purchased a CS2 product, and you no longer have the installation media, you can download replacement installers from this page.
If you purchased a CS6 product, and you no longer have the installation media, you can download CS6 replacement files from this page.
Download Pro or Standard versions of Acrobat DC, XI, or X
Adobe Lightroom
Adobe Premiere Elements
Adobe Photoshop Elements