Adobe Malaysia Reseller, Buy Adobe CS6 Malaysia - Photoshop, Pagemaker, Illustrator, Premier, Acrobat, InDesign, After Effect, Video Collection, Creative Suite.

Adobe Toll Free Support:
Should you have any inquiry or need any support for Adobe products, you can kindly contact Adobe Malaysia Support at toll free
1 300 80 0027
.
Sales inquiry 1800 80 6611
Customer Service via E-mail:
Alternatively, you can contact Adobe Customer Service via
support form here
.
**(please include the product serial number, if available)
About Adobe Volume Licensing
Adobe Volume Licensing Comparison Guide
.
As the name implies, you can purchase TLP if you are looking for 5 sets or more with discounted price. Want to know more about Adobe Volume Licensing?
Click here
or
Download the TLP program overview
.
Click here for education licensing
or
Download the CLP program overview
.
End-user license agreements FAQ
To Activate Adobe via Phone:
Malaysia toll free:
1800 80 8025
To Activate Adobe using offline method
Offline Activation
If you purchased a CS6 product, and you no longer have the installation media, you can download CS6 replacement files from this page.
System requirements for Adobe Creative Suite 6
Upgrade eligibility, pricing, and purchasing options
---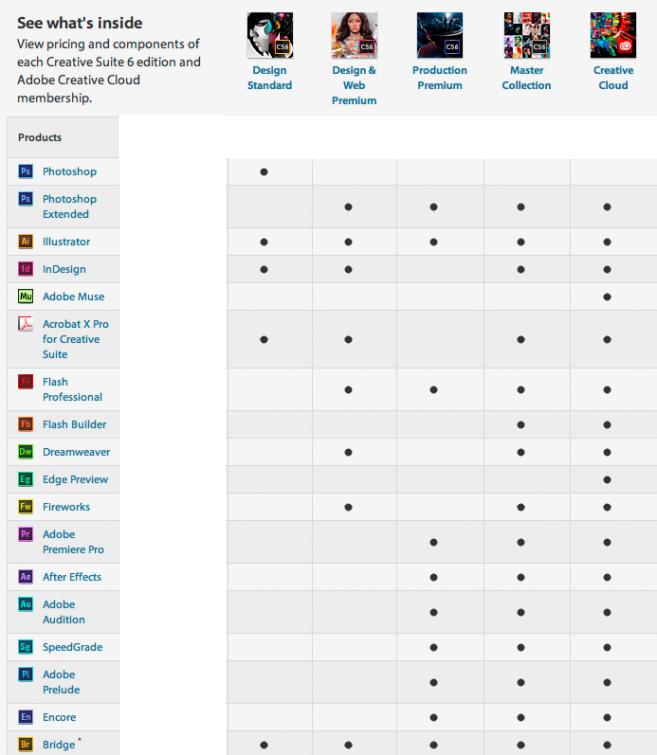 ---
| | |
| --- | --- |
| View as: Grid List | Sort by |
Regular Price: RM 1,962.00

Special Price: RM 1,618.00

Regular Price: RM 1,309.00

Special Price: RM 1,068.00
Regular Price: RM 4,621.00

Special Price: RM 4,488.00

Regular Price: RM 1,617.00

Special Price: RM 1,600.00
Regular Price: RM 12,319.00

Special Price: RM 10,588.00

Regular Price: RM 4,621.00

Special Price: RM 3,688.00

Regular Price: RM 39,282.00

Special Price: RM 28,888.00
Regular Price: RM 6,932.00

Special Price: RM 5,288.00

Regular Price: RM 1,386.00

Special Price: RM 1,288.00

Regular Price: RM 924.00

Special Price: RM 888.00
Regular Price: RM 3,697.00

Special Price: RM 3,388.00
Regular Price: RM 8,781.00

Special Price: RM 6,688.00
Regular Price: RM 6,008.00

Special Price: RM 4,588.00

Regular Price: RM 12,016.00

Special Price: RM 8,988.00

Regular Price: RM 8,781.00

Special Price: RM 6,688.00
Regular Price: RM 4,621.00

Special Price: RM 4,488.00

Regular Price: RM 1,849.00

Special Price: RM 1,840.00
Regular Price: RM 8,319.00

Special Price: RM 6,088.00
Regular Price: RM 3,055.00

Special Price: RM 2,338.00

Regular Price: RM 1,089.00

Special Price: RM 888.00
Regular Price: RM 3,055.00

Special Price: RM 2,448.00

Regular Price: RM 1,089.00

Special Price: RM 928.00

Regular Price: RM 3,492.00

Special Price: RM 2,658.00
Regular Price: RM 1,746.00

Special Price: RM 1,388.00

Regular Price: RM 4,867.00

Special Price: RM 3,788.00
Regular Price: RM 3,235.00

Special Price: RM 3,200.00

Regular Price: RM 23,102.00

Special Price: RM 17,588.00

Regular Price: RM 41,587.00

Special Price: RM 32,288.00
Regular Price: RM 13,859.00

Special Price: RM 10,449.00

Regular Price: RM 4,673.00

Special Price: RM 4,065.00

Regular Price: RM 70,091.00

Special Price: RM 59,888.00
Regular Price: RM 1,638.00

Special Price: RM 1,248.00

Regular Price: RM 2,673.00

Special Price: RM 2,650.00
Regular Price: RM 3,235.00

Special Price: RM 3,200.00
Regular Price: RM 3,212.00

Special Price: RM 2,788.00
Regular Price: RM 601.00

Special Price: RM 588.00

Regular Price: RM 3,235.00

Special Price: RM 3,200.00
Regular Price: RM 401.00

Special Price: RM 399.00

Regular Price: RM 4,621.00

Special Price: RM 4,488.00

Regular Price: RM 570.00

Special Price: RM 488.00
Regular Price: RM 401.00

Special Price: RM 399.00
Regular Price: RM 3,574.00

Special Price: RM 3,488.00

Regular Price: RM 2,613.00

Special Price: RM 2,010.00

Regular Price: RM 4,724.00

Special Price: RM 3,888.00
Regular Price: RM 4,621.00

Special Price: RM 4,388.00

Regular Price: RM 8,781.00

Special Price: RM 6,588.00
Regular Price: RM 113.00

Special Price: RM 88.00

Regular Price: RM 1,843.00

Special Price: RM 1,388.00

Regular Price: RM 2,306.00

Special Price: RM 1,788.00
| | |
| --- | --- |
| View as: Grid List | Sort by |